Kata Screenplay and Novel Reviews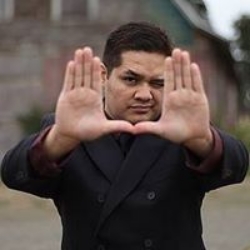 Carlos A. Ortiz
​Latino Film Producer Carlos A. Ortiz pens an excellent review of the "Kata The Iron Thorn" Screenplay. I met Carlos online in May of 2020, and he has been a wonderful source of inspiration and support for the Kata Film and Graphic Novel Project.
Download review below.
Sarah Hinrichs
Review by Sarah Hinrichs (Reedsy.com) Worth reading 😎.
A semi-autobiographical adventure that blends the caribbean's past as a pirate haven and present day Jamaica. The story begins with Terry Lee Barrett preparing for a trip to his birthplace in Kata Cove, Jamaica. Growing up in Philadelphia, Terry Lee or TL has made a career out of being a successful local DJ and is about to open a nightclub of his own. But fate has a different idea when soon after his arrival in Kata Cove, TL has to stop an evil obeah witch from unleashing a dubby ghost that would mean a certain apocalypse on the land. The brief chapters and history of both Pennslyvania and Jamaica make the story pretty accessible to children, as well as people of all ages. Kata, the Iron Thorn is adapted from an original screenplay that has interest in Hollywood to be made into a film.
There was still much to enjoy about Kata, the Iron Thorn. It is a story set in Jamaica and phonetically uses the dialect, highlighting the vibrant culture and people of the Caribbean nation. There are many positive lessons to take away from Kata, the Iron Thorn from trying to do better after past mistakes and wanting to make the world a better place, to the being proud of who you are and the history of where you're from. At its heart, it is a story that wants to teach about the power of love, kindness, and compassion, as well as human decency, dignity, and respect.
​
I hope books like Kata, the Iron Thorn keep getting written, bringing cultures from around the world to the mainstream. The world is made a better place the more we learn and understand about each other.
Dr. Carole Boyce Davies
Dr. Carole Boyce Davies, Professor of English and Africana Studies at Cornell University has been an early champion of the Kata The Iron Thorn Film Project.
On May 6th, 2019, I was invited to speak to her Caribbean World Studies Class at Cornell. The trip to Cornell University was a delight and a tremendous success!  The students loved my presentation, asked great questions, and invited me back to provide them an update. This is a picture of Dr. Davies and me from that event.  On March of 2014, she wrote a wonderful 6-page Kata Screenplay Review.
Download review below.
Barbara Wilson
Barbara Wilson is a multi-award-winning Jamaican national living in Philadelphia. She is the organizer of The Caribbean Festival & Cultural Organization Of Pennsylvania, a member of the Mayor's Commission on African and Caribbean Immigrant Affairs, and past Chair of Team Jamaica Bickle, Philadelphia.
​Here's what she wrote about the Kata novel:
"I trust all is well with you. I was in Florida for around five weeks and got the chance to read your well-written book. I just wanted you to know that it was a pleasure reading from cover to cover and just could not put it down until the End. I made it in the book for sure, which was very interesting reading about myself 😀. ​I plan to make these actual holiday presents for the festival crew as Everyone should get a chance to read them. My daughter also enjoyed reading the copy I gave her. So thanks again for making this possible." ​